<!— PENCIL PUSHDOWN AD TAG —>
New Emergency Operations Center open in time for hurricane season
Julian Glover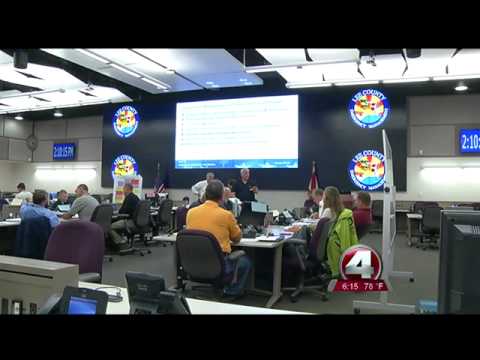 video
Photo: Video by fox4now.com
CREATED Jun. 5, 2013
LEE COUNTY, Fla. - The new Lee County Emergency Operations Center is the exact opposite of the previous one. It's spacious, technologically advanced and emergency management officials tell us it's ready to handle just about anything mother nature sends our way.
"Our goal is to get our community back to normal as quickly as we can," said Gerald Campbell, Lee County Emergency Operations Center, "By having all the key players under one roof, in a safe building, we make sure that happens more quickly."
The new emergency operations center is decked out with state of the art technology to help key decision makers do their jobs in an emergency.
"One day something bad will happen that requires more than local management and now we have the tools to do that," said Campbell.
Those tools range from advanced high speed internet to cutting-edge LED displays that allow emergency officials to manage briefings, hurricane tracking maps and satellite feeds simultaneously from the situation room.
The emergency operations center is as safe as it is advanced.
"Everything is engineered to be safe with 200 mile and hour wind speeds or better," said Campbell.
That's strong enough to withstand wind speeds higher than Hurricane Katrina or Andrew.
The building is also self sufficient for up to seven days; giving emergency officials the basic supplies they need like food, water, and power -- to weather the storm for up to a week.
But even with all of the bells and whistles and high tech gadgets, officials stress that it's the people who make the difference when it comes down to the wire.
"The magic that happens here comes from the people who report to the building and work with us," said Campbell, "This building just gives them to the tools that they need to do that job better."