<!— PENCIL PUSHDOWN AD TAG —>
Long lines keep voters away on last day of early voting
Colleen Hogan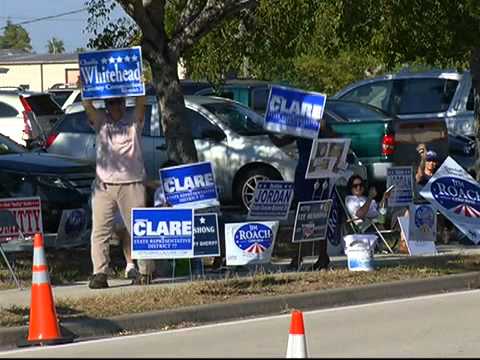 video
Photo: Video by fox4now.com
CREATED Nov. 4, 2012
CAPE CORAL, Fla. - Huge lines on the last day of early voting!
Southwest Floridians showing up by the hundreds to cast their ballots.
Four In Your Corner's Colleen Hogan was there as hundreds waited in line at the one Cape Coral early voting location.
--
A lot of people actually left instead of braving the four and a half hour line to early vote Saturday.
The Wood family showed up with their two small children in tow, thinking they would be in and out. But the wait time was just too long.
"You'd think there would be a better option," Heather Wood said.
But there isn't.
A poll worker announced a two and a half hour wait at a downtown Ft. Myers location as of 4:00 p.m. Saturday.
"When you have to choose between two and four hours, which one is your better choice?" Wood said.
She's not alone in her frustration.
Mary Jane Palmer's trying to make her voice heard. But a wait of four plus hours, means she's coming back on election day.
"It shows how enthusiastic people are," she said.
Others, like Cathlyn Medina, voted absentee.
"That's the best way," she said.
In all, elections officials say more than 800 people voted before 4:00 p.m. Saturday at the Cape Coral early voting location. However, for many trying to do their civic duty, the lines were just way too long.
"We literally have to go to another city to do our duty," Wood said.
Colleen Hogan, reporter
chogan@jrn.com