<!— PENCIL PUSHDOWN AD TAG —>
Mr. Handyman donates service to East Naples Fire Department
Julie Salomone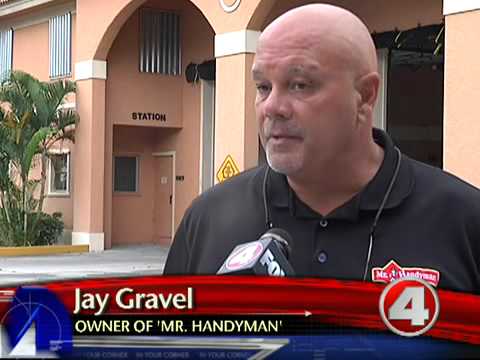 video
Photo: Video by fox4now.com
CREATED Sep. 10, 2012 - UPDATED: Sep. 10, 2012
NAPLES, Fla. - Volunteers donate more than 30 hours of free repair and maintenance work to a local fire department on Monday.
Mr. Handyman in Naples is donating its service to the East Naples Fire Department. It's part of a national day of service to honor the heroes of September 11th.
National Day of Service and Remembrance was established in 2009 as a way to encourage people to do community service and remembrance activities on the 9/11 anniversary.
Volunteers are working on painting, landscaping, repairing walls and other general cleanup at the fire station on Davis Blvd.
Six other businesses donated their time at the station too. Those businesses include: Aldrich Development, Deltoro's Landscaping, Ace Hardware, Fitness Diva, A/C Electric and Signet Title.
This marks the 4th consecutive year Mr. Handyman has donated its time and gave more than 2,400 hours for free.