<!— PENCIL PUSHDOWN AD TAG —>
Bear rummages through Estero family's trash
Andre Senior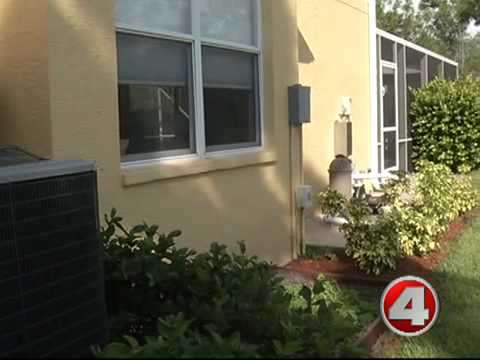 video
Photo: Video by fox4now.com
CREATED Sep. 4, 2012
ESTERO - A bear was spotted prowling through the backyard of an Estero family's home for more than two hours on Monday.
"My wife and I were unloading groceries," said Steven Sweet. "The bear grabbed the garbage (and) spread it all across our yard."
The fury black beast entered the family's backyard by jumping a fence from a heavily wooded area behind the home in the community of Stoneybrook.
Sweet said it jumped the fence several times to get more food. "Two or three different times that I witnesses…"
Each time it would take some of the trash, jump back into the wooded area, snack on the food, before heading back over the fence to raid the trash bin for more food.
Video taken by Sweet shows the bear trolling outside the swimming pool enclosure.
"This was pretty extreme," said the father of three young children. This thing made a mess."
Trash littered the entire backyard, so after a while Sweet headed out when he though the bear left. But while picking up the trash, the bear made its way back over the fence again so he headed indoors.
The family watched the bear through the kitchen window inside their home.
"He saw us through the window and just started staring at us," said Sweet's daughter, Madelyn.
Sweet said he was more surprised than scared about the close encounter and was thankful his children were not outside playing when the bear stopped by for a visit.
"I'm scared looking ahead with the kids out here and not ever expecting something like this to happen," he said.
Florida Fish and Wildlife says the bear population may be growing because they've seen a lot of this type of activity lately.